In my DMD220 Principles of Interface Design course at UAT, we discussed UX trends to consider for our personal portfolio websites and for web design best practices. For our discussion post, we reviewed the following annual report by Fabricio + Caio, The State of UX 2023 and were asked to share our insights and if we agree or disagree with these trends in 100 words or more.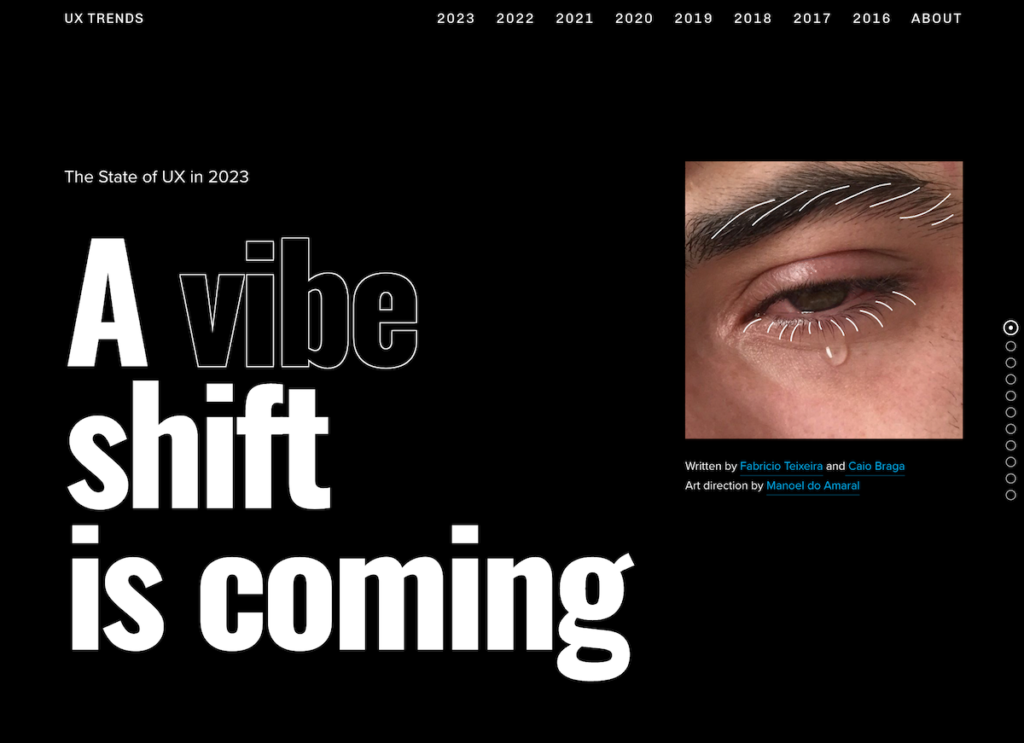 My biggest takeaway from this State of UX report is that "uncertainty is the only certainty there is," authors Teixera and Braga state about the future of UX.
Overall, I found it to be a real, raw and refreshing perspective on predictions for 2023 and beyond. There is no avoiding what's coming. I agree with this observation that things are changing rapidly and along with the market to the way we work and "a vibe shift is coming" for UX.
With massive layoffs happening and companies restructuring to rely on multi-purpose individuals over fully segmented teams, I think it's a great resource of inspiration for anyone in the field of UX design. As the article points out, no industry or role is safe. The design workforce is becoming more competitive as more companies downsize. This piece calls out to designers to assess where they are and where they want to go, so that they are truly inspired by their work and enjoy design, which will power stronger results especially if it's inspired by the people it's created for.
From my perspective, this current industry downturn feels very different and more promising than what occurred in the market in 2008, or in the early stages of the pandemic. With technology rapidly advancing, it means more accessibility for those put out of work.
For designers specifically as well, I believe we're going to start seeing a lot more in terms of self-promotion and self-branding as jobs become more competitive. As a result, designers could benefit from this trend to distinguish yourself as a professional in any field and multipliyl project-based or "gig" work opportunities.
I also appreciated how some of the larger-than-life tech trends like the metaverse were sized down and grounded a bit. Overall, it stresses the importance for designers to hold on to the value of design and always keep their focus on growth and innovation.
Check out this Fabricio + Caio, The State of UX 2023 report and let me know what you think? Do you agree or disagree with their predictions?