Education
University of Advancing Technology
Bachelor of Science, Digital Marketing
President's List (4X)
Dean's List (4X)
2021-2023
Heritage College
Associate of Applied Science, Therapeutic Massage
2008-2010
Northern Michigan University
Entrepreneurship Major
2006 – 2007
Platte County High School
2002-2006
Student Class Vice President (2002-2006)
A+ Scholarship & Peer Help Program
DECA (2005-2006)
Student Athletic Staff (2005-2006)
Varsity Volleyball (2003-2004)
Varsity Soccer (2003-2005)
Certificates and Courses
GA4 Certification, 2023
HubSpot Reporting Certification, 2023
Search Marketing Expo (SMX), 2021
Certificate of Completion
GA4 Advanced Workshop
Using GA4 and Data Studio to connect data to business decisions.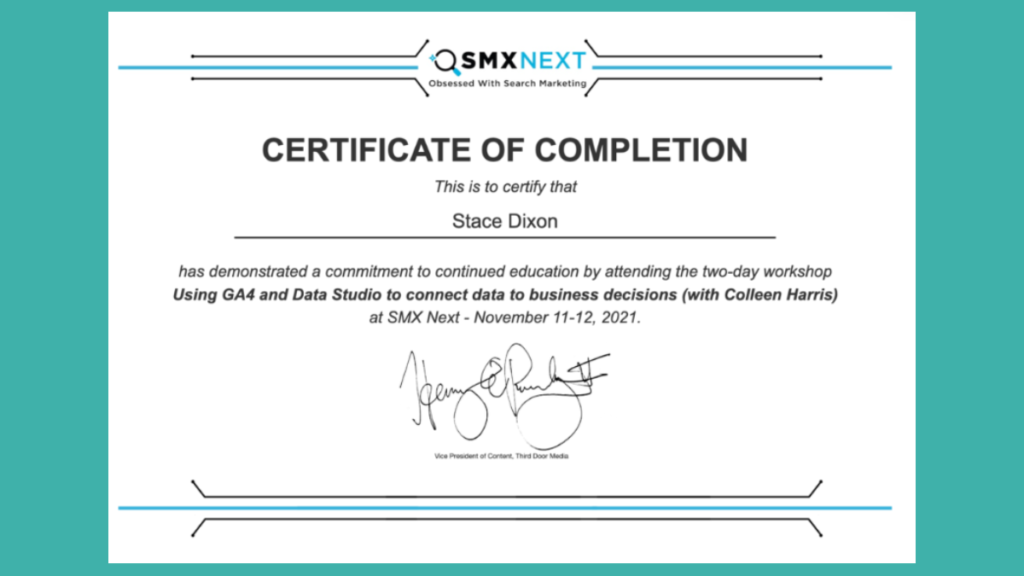 HubSpot Academy Courses (2019-present)
Inbound Marketing
Developing a Lead Generation Campaign With HubSpot
Creating Topic Clusters and Pillar Pages
Creating a Content Strategy in HubSpot
Exploring HubSpot Marketing Contacts
Designing Compelling HubSpot Dashboards
Measuring Your Lead Management Success With HubSpot
Creating Pages in the HubSpot CMS
Lead Nurturing With HubSpot
Lead Scoring and Lead Routing With HubSpot
Start Email Marketing
Understanding Email in HubSpot
Getting Started with HubSpot Ads
Understanding Segmentation in HubSpot
Targeting Strategies for Your Google Ads
Creating Forms in HubSpot
Managing Your Behavioral Events in HubSpot
Understanding Lead Nurturing
Google Analytics Academy, 2020-2021
Google Analytics For Beginners
Advanced Google Analytics
Google Ads Certifications, 2020-2021
Google Ads Display Courses
Google Ads Search Courses
Google Ads Video Courses
LinkedSelling, 2019
Certificate Of Completion
The Appointment Generator Course
Creating engagement and sales through leveraging LinkedIn optimization.
STORYBRAND (2018 – 2019)
Certificate Of Completion
Storybrand Private Workshop & Course
Clarify your message, align your team, and grow your business.